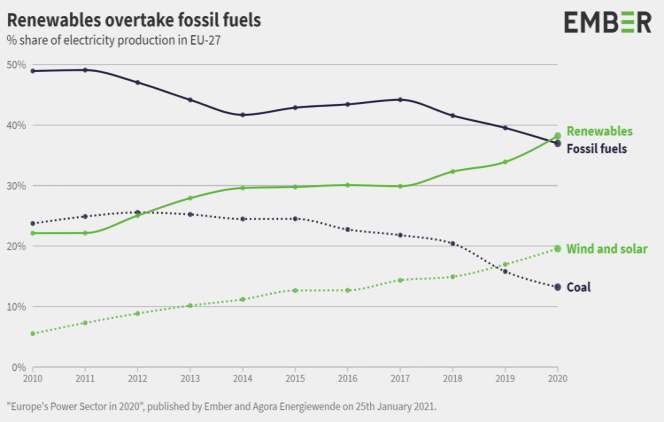 According to new research, despite the tremendous progress made in coal and natural gas, Europe's renewable energy growth still needs to grow faster to reach the EU's climate goals.
The latest report from think tank Agora Energiewende and Ember state shows that Europe will be the "greenest electricity year on record" in 2020. By 2020, renewable energy generation will account for 38% of continental Europe's electricity.
It is called the "European Electricity Sector in 2020" and it was found that one-fifth of the electricity is generated by wind and solar power plants, while coal power generation dropped to only 13% last year, compared to 26% five years ago. However, the report claims that solar energy still accounts for only 5% of the European energy mix, up from 3% in 2015.
In 2020, the European solar market has grown by 11%, and the installations in Germany and the Netherlands have increased by 18.7GW. Spain, Poland and France led the growth.
The previous week's report predicted that despite the setbacks of COVID-19, the deployment of solar power in major European markets will continue to expand rapidly, so this estimate was made. Bloomberg New Energy Finance said last week that 150GW to 194GW of solar photovoltaic power generation will be installed this year. At the end of last year, the International Energy Agency designated solar energy as the "new king" of the electricity market, and pointed out the annual solar power generation between 2022 and 2040. The amount will increase. Will be deployed than the previous year. Another report by the software company Pexapark stated that after the "crazy" of corporate transactions in markets such as Spain, by the end of this year, the European solar energy sector's power purchase agreement may exceed 10GW.
Solar energy will provide 144 TWh of electricity to Europe in 2020, higher than the 125 TWh in 2019. The combined wind and solar energy will increase by 51 TWh to 504 TWh in 2020, but Patrick Graichen, director of Agora Energiewende, said that the growth rate needs to be doubled in order to make the EU's electricity supply carbon neutral. According to Ember's "Vision or Sector" report released in November last year, the current average annual growth rate of European national energy and climate plans is only about 72 TWh.
Dave Jones, Ember's senior power analyst and lead author of the report, called 2020 a "milestone moment" for the European climate goals, adding that countries are "relying on wind and solar power" to ensure that fossils are phased out fuel.
The report said that although it is "encouraging" that wind and solar energy will increase by 51tWh by 2020, it will require approximately 100TWh per year to reach the 2030 climate target.
It said: "EU countries need to greatly increase their commitment to 2030."