Please continue reading to learn more about the solar panel backpacks on the market today and may find a backpack that suits your style, charging needs and budget.
Smartphones and other mobile devices have revolutionized the way we stay in touch with family and colleagues. Without a smartphone, you can hardly risk leaving home.
The tragedy is that smartphone batteries hardly last for a day without being charged. If there is no nearby power outlet, the device is of little use.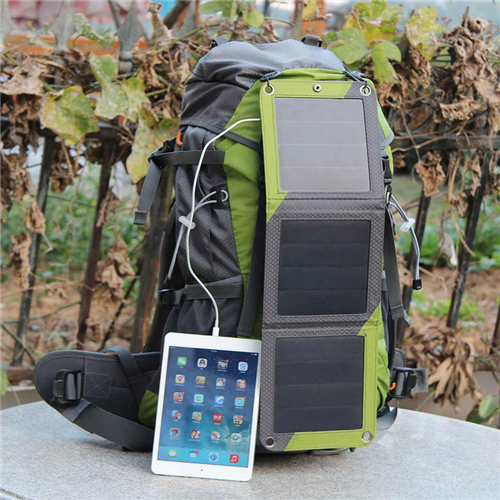 This is a major issue if you are traveling in a remote area, cycling or hiking.
You need a reliable way to keep smartphones and other devices (such as tablets and laptops) always charged. This is exactly what the solar backpack does.
The solar backpack is a portable charging station located on your backpack. It converts solar energy into direct current (DC) energy to charge mobile devices. This is a great tool when your device runs out of juice and the nearest power outlet is miles away.
Advantages of solar backpack
If you walk in the sun, why not let Mother Nature rescue you from the dead battery? In this era of information and wireless connections, almost everyone uses mobile phones, tablets, iPods, laptops, portable speakers and other electronic devices.
All these devices need to be constantly charged in order to continue to work as expected.
Unfortunately, we don't always get close to the power outlet every time. The solar backpack solves this problem by providing you with a portable charging station. You can use the charging station anytime and anywhere. Unless you live in a polar region, you can use it most of the time.
The solar battery pack is basically your ordinary backpack, but with attached solar panels. The panel provides a convenient way to charge the device using solar energy. You can even charge the battery pack during the day and use it to power your device at night.
You may ask, why not carry the power bank and carry the device with you? Well, in my experience, power banks do provide additional, portable portable power, but they also have limitations.
If you rely entirely on mobile power, you need to be very careful about how to use the device. This is not the case with solar cells. It eliminates all concerns and worries about the exhaustion of your device.
The best solar backpacks are also equipped with water bags. Water bag packaging is a place you should not leave when hiking, cycling or other backpacking.
Points to note when using a solar backpack
1.Please do not scratch the surface of the solar panel with sharp objects
2.When charging the charger with solar energy, please place the solar panel upwards in direct sunlight to ensure the best charging effect
3.Please do not leave the charger outdoors on rainy days
4.Please do not bend the product more than 25 degrees, it will affect the service life of the product
5.Do not put the product into the fire;
6.Do not throw, hit or rub the product violently, so the product will sag, crack and other abnormal conditions, please stop using it immediately
7.Do not disassemble or try to repair the product
8.Do not use chemicals, soap or detergent to clean the product, please use dry soft cloth to clean the surface
Do you know the choice of backpack now?